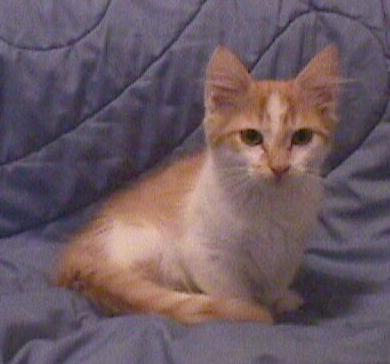 Joto's Home Page
Joto the Munchkin was born on July 7, 1998 to Meitoi Jack Be Little and Whiskercity Autumn Gold of Munchkin City Cattery. He has medium-length orange and white fur and green eyes. Like all Munchkins, he has short legs.

Munchkins are the result of a natural genetic mutation that shortens the long bone in the legs. It is a dominant characteristic, so Munchkins crossbred with long-legged cats will produce litters with half the kittens short-legged. Unlike Dachshunds, Munchkins do not suffer from spinal problems and are as mobile and healthy as long-legged cats. In fact, they can jump just as much as other breeds.

Munchkins are also smaller in size than other breeds, with a typical adult size of about 5 pounds. They act like kittens their entire life. Munchkins also have a tendency to steal and hide small shiny objects such as coins, keys, and jewelry.

Joto is extremely affectionate and outgoing. His name means "superior" in Japanese, and rhymes with Toto (Dorothy's dog in the Wizard of Oz). He already responds to his name, and Nash has started teaching him some of his tricks. Joto's favorite food is cheese.

Joto's Photo Gallery contains many cute pictures of Joto.

Joto has his own email address,

, but does not respond to messages.
Joto died on August 20, 2012 of cancer. He was 14 years old.
---
Copyright © 1998 by Mark Kantrowitz. All rights reserved.
Last modified: August 20, 2012 12:52:00 EST