---

Blue Belle's Peterbald Kittens
(October 5, 2011 — SOLD)
---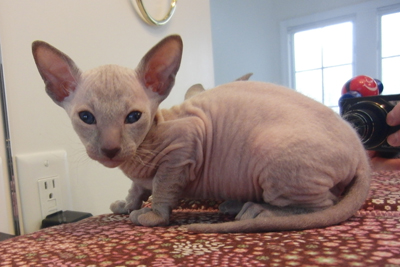 One-month-old flock-coated male Peterbald kitten with bat-wing ears
Three Kittens Born on October 5, 2011 (SOLD)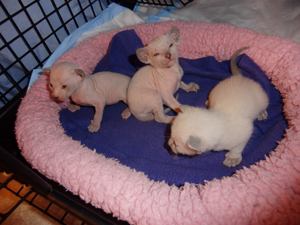 Three 2-week-old Peterbald kittens playing in bed
Blue Belle had a litter of three kittens on October 5, 2011: a straight-coated female kitten and two flock-coated male kittens. (The larger of the flock-coated kittens started off with a brush coat but subsequently lost most of the brush coat.)
The dam was our Champion, Blue Belle, the best blue-point Peterbald in TICA in 2009-10.The sire was Supreme Grand Champion KREMLINCATS Chilly Vasily, the top-ranked Peterbald in TICA in 2008-09. He is a blue-point and white.
All of the kittens are blue-point, as would be expected from a pairing of two blue-point cats. The kittens appear to have inherited Blue Belle's gray body color and Chilly Vasily's better ear placement.
All three kittens have outgoing personalities and meow at us whenever we enter the room.
Available Kittens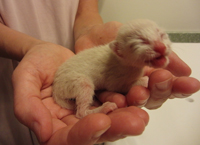 One-day-old straight-coated Peterbald kitten
All three kittens from the October 2011 litter have been sold. A new litter is expected in June 2012 and will be available for placement in September when they are 3 months old. Please email us to be added to our waiting list. Please visit Peterbald Kittens for pictures of available kittens.
Pricing is typically $1,400 to $1,800 for a pet (altered) and $2,500 with breeding rights (unaltered). Straight-coated kittens cost $550.
The purchase price includes shipping within the continental United States. We usually ship by Delta. The purchase price will be reduced by $200 for kittens that will be picked up in person.
The purchase price also includes:
All shots through age 3 months, including FVRCP and Rabies
FeLV/FIV testing
Veterinarian health certificate
TICA registration
Shipping crate
Kitten starter kit (litter box, litter scoop, scratching post, food samples, food/water bowls, nail trimmer, and the kitten's favorite toys)
Kittens sold as pets will be spayed/neutered by our vet before placement.
A signed contract and payment in advance are required before placement. We accept Paypal. We do not accept checks.
Coat Types and Color/Pattern are not Guaranteed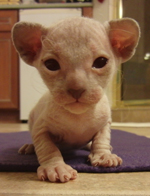 2-week-old flock-coated Peterbald kitten
Coat types and color/pattern are not guaranteed. Peterbald cats have a hair loss gene, which can cause their coat types to change as they get older. For example, Blue Belle started off with a brush coat, but lost most of it during her pregnancy and is now considered as having a flock coat. One of the flock-coated kittens started off with a brush coat but lost most of the brush coat as he matured.
The straight-coated kitten probably does not have a copy of the Peterbald hair loss gene. Initially we thought that she might have a copy of this gene, as her belly was completely naked when she was born and her tail had a brush coat. But she has since then grown fur on her belly, making it much less likely that she carries the hair loss gene.
The following pictures show the differences between the three coat types. Note that the brush-coated kitten lost most of the brush coat by 8 weeks and is now considered to be a flock-coated kitten.
| | |
| --- | --- |
| | |
| Top of straight-coated Peterbald kitten at 3 weeks | Side of straight-coated Peterbald kitten at 3 weeks |
| | |
| Top of brush-coated Peterbald kitten at 3 weeks | Top of flock-coated Peterbald kitten at 3 weeks |
Notice how the brush-coated and flock-coated kittens have gray body color. The straight-coated kitten's fur is still white, but is starting to turn gray. Notice the darker gray stripe along the spine.
Blue Belle Nursing Her Kittens
| | |
| --- | --- |
| | |
| Flock-coated Peterbald kittens nursing | All three Peterbald kittens nursing |
Peterbald Kitten Videos
| | |
| --- | --- |
| | |
| 1-day-old straight-coat Peterbald kitten crying | Peterbald kittens eating food from a bowl for the first time |
| | |
| 2-week-old Peterbald kittens nursing | 1-month-old Peterbald kitten getting a tongue bath |
Contact Information
Email:


Phone: 724-538-4500
---
Copyright © 2011 by Mark Kantrowitz. All rights reserved.
Celestial Blue Peterbald Cattery
www.peterbaldcattery.com