In 1996, Kathleen Petyarre was awarded the prestigious Telstra prize for her painting Storm in Atnangkere Country. Controversy erupted in 1997, when Ray Beamish, her former partner of ten years, revealed that he had been the main painter of the prize-winning painting and many other paintings attributed to her. The claim was that an important aboriginal painting had not, in fact, been painted by an aboriginal artist, but by a Welsh-born white man.

Ms. Petyarre and her attorneys denied the allegations, saying that although Mr. Beamish had collaborated with her on the paintings, she was the author and he worked in a minor capacity under her direction.

After their separation, however, Ms. Petyarre has not produced any paintings in this style, while Mr. Beamish has produced several. This 1997 Water Hole painting by Ray Beamish is one of the first works he painted after the scandal broke to prove that he was the author of the prize-winning work.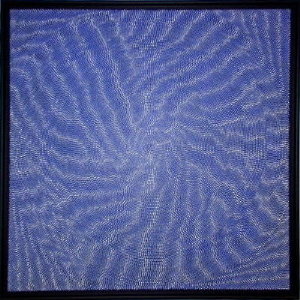 Water Hole 1997, acrylic on canvas
The novelty of this style of dot painting is that instead of using a single size kebab (stick used to paint dots), it uses three different sized kebabs, as can be seen in the enlargement to the right. The artist uses the variation in dot size and the precision of dot placement to achieve a visual effect. The painting appears to be swirling and swimming before your eyes. This makes it difficult to look at the painting for more than a few minutes.

This isn't the only painting in the Kantrowitz collection to use a distinctive style to achieve a visual effect. The Flying Ant Dreaming painting by Maxie Tjampitjinpa is another example. It uses a combination of black and red with white flicks to achieve a blurring or swarming effect.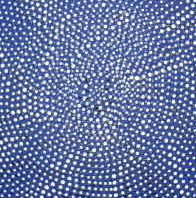 Enlargement of Center of Painting